Writing a strong offer is more than just offering a high sale price. Of course, that's a great way to get a seller's attention, especially during multiple offers, but it's not the only factor on a seller's mind.
Sale Price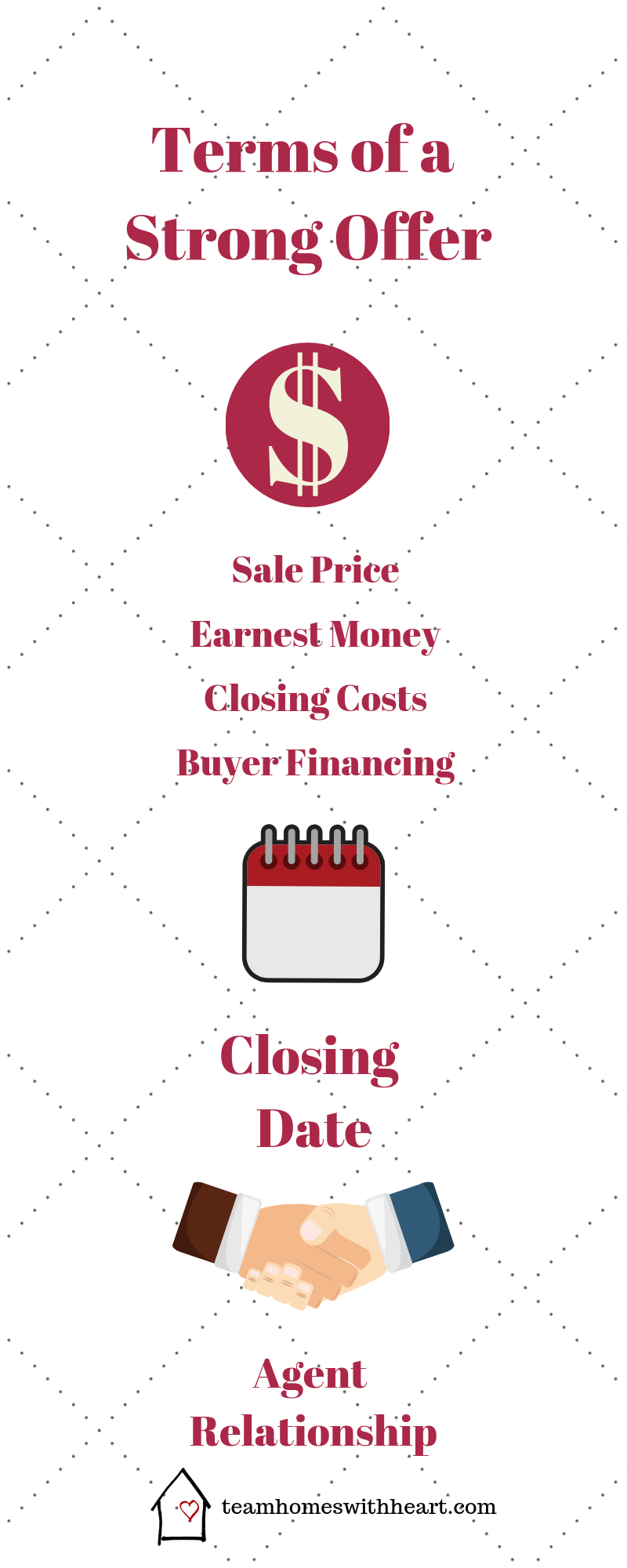 Every seller wants as much as possible in the sale of their house. But I advise my buyers on price based on the comps in the area, making the appraisal an easier process. While a high sale price is always going to get the sellers attention, there are other terms that can be just as, and sometimes even more, important than the price.
Earnest Money
Earnest money is a buyer's promise to make it to the closing table. It's generally accepted that 1% of the sale price is a fair amount to offer. However, the more the better! It's a fine balance between an amount that will impress the seller, but not risking so much that it would be devastating should that money need to be forfeited to the seller if something goes terribly wrong. Your agent can advise you on the right amount for your particular market.
Closing Costs
Every buyer will incur closing costs. This amount is generally around 3%-4% of the sale price. There are certainly markets where it is acceptable for the buyer to ask the seller to pay their closing costs, but this greatly reduces the strength of the offer. In a competitive situation it is definitely best for the buyer to pay their own closing costs, or, if possible, to add that amount on top of the sale price, essentially building it into the offer.
Closing Date
Don't under estimate the importance of the closing date! When my clients find the house they want, the first thing I do is call the listing agent to ask what the seller's preferred closing date would be. In many cases there is a specific timeline that the sellers need and if my buyer can work within that timeframe, it gives us an edge during negotiations.
Beyond writing a strong offer, I work hard to have friendly and professional interactions with the listing agent. This can go a long way in gaining the listing agent's support and confidence in my buyer's offer. It is my job to do everything within my power to get my buyers the home they want, and advising them on how to write the strongest offer possible, within their means, is the first step.
Sara Anderson is a REALTOR with Keller Williams Preferred Realty and is licensed in the state of Minnesota. To discuss how she can help with your real estate needs, contact her today!